Ship repair
We have personally been dealing with the ship repair industry and responsibly declare that dust-free technologies should soon displace dry sandblasting (abrasive blasting) processing. The management and staff of the factories that refused to use "dry" technology say that they did not even know how positive the experience of using such technologies in production might be. And the only thing they got was avoiding the dust when preparing the surface!
Mandatory! In order to avoid the occurrence of atmospheric corrosion due to the use of water, we recommend using a corrosion inhibitor (surface state modifier) Amidal.
Why exactly the pneumatic hydro-abrasive cleaning?
Because this technology is the most profitable and convenient from the economic, from operating, and financial point of view, both today and in the future for the next 5-8 years.
No dust The main benefit of this technology is the absence of dust due to the use of a mixture of abrasive and water. This allows performing a more efficient arrangement of operations during, e.g., dock repair.
Optimization of work processes in the dock Work processes such as preparation-painting, welding, plumbing, measuring and diagnostic activities, operations on the propeller-rudder system can now be performed in parallel.
Vessel painting Corrosion inhibitor (surface condition fixer) allows to increase the interoperation time from preparation to applying the first layer and allows cleaning without any interruption for painting and applying the first layer in one pass over the entire processed area, e.g., the underwater part of the vessel.
Benefits for the production economy The operating period is reduced, the costs of dock production are decreased, the capacity of the dock is improved.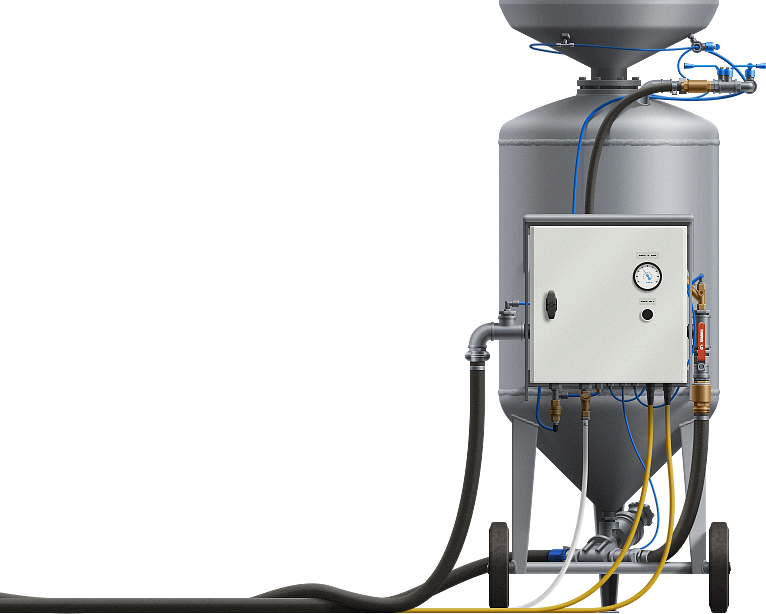 Why is it profitable?
We have our own production base, equipped with advanced welding, plasma cutting, plumbing, pneumatic, hydraulic, installation, measuring equipment and a separate complex of chemical production. We purchase a portion of components from suppliers that have undergone a stringent selection.
Machine
Flask capacity *
Price
Energy Blast 300/12
300 l

10 270

€

Order
Energy Blast 80
80 l

10 270

€

Order
* — Customized flask manufacture is possible