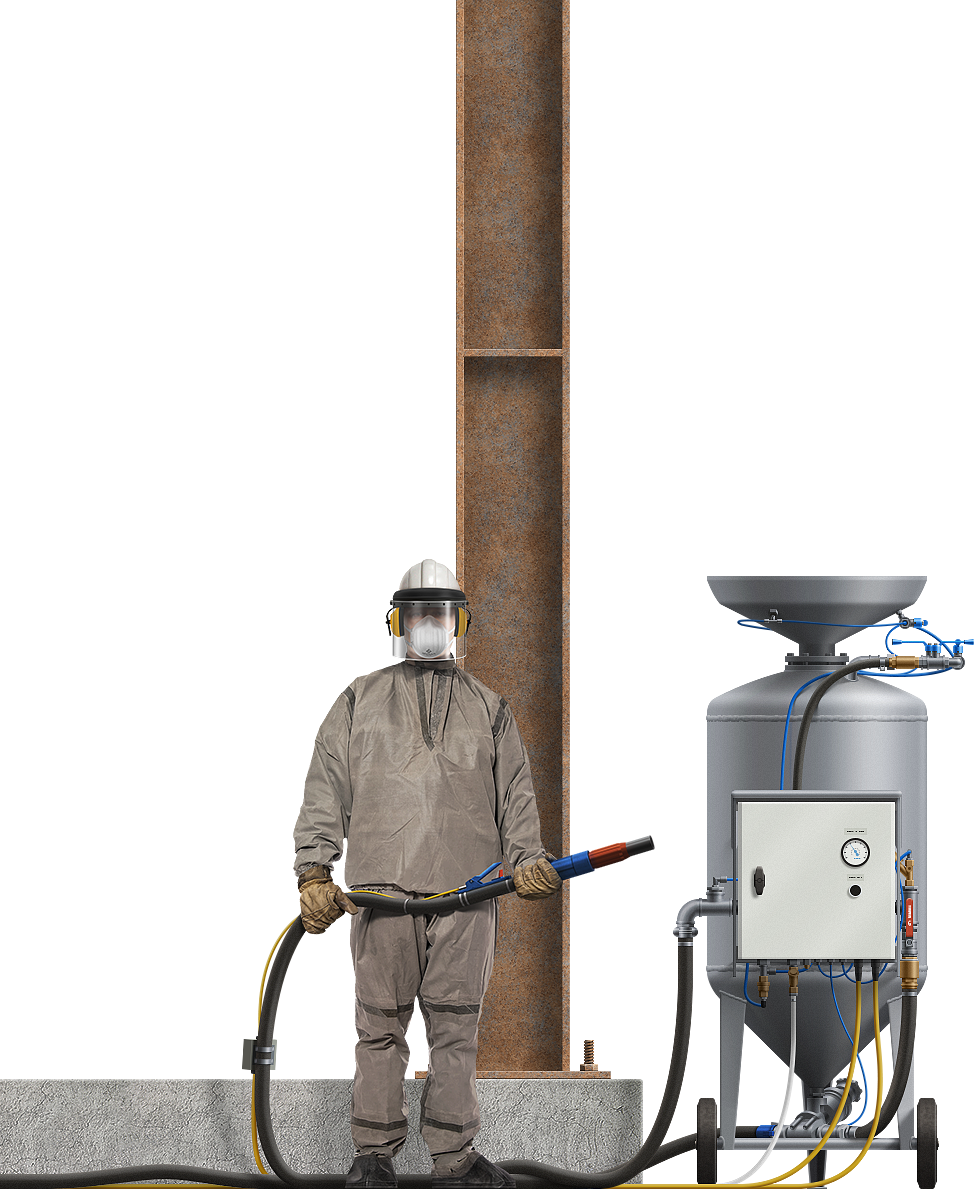 Pneumatic hydro-abrasive Energy Blast machines
Surface treatment up to SA 3 grade dust-free, oil-free, Ry = 40-80 microns, for 48 hours or more. In any production conditions.
Scopes of application
Pneumatic hydro-abrasive Energy Blast machines are used at ship repair and oil and gas plants, in erection of bearing steel structures and bridge arrangement, in construction of power lines and cleaning of building façades, and in other cases where dust-free cleaning is required.
The absence of dust when using the Energy Blast machine allows parallel execution of various technological operations in the dock (painting, welding, ultrasonic diagnostics, repair of the propeller-rudder system, dismantling and installation of sea valves, etc.).
«No dust»No dust when the machine is operating in the "wet" mode
The Energy Blast machines allow performing surface cleaning works (up to Sa 3 grade) at the existing plants without any necessity of "obtaining a permit for hot works". The impact action of abrasive in the aquatic environment eliminates HAZARDOUS sparking.
Without any risk of fire"Wet" cleaning eliminates hazardous sparking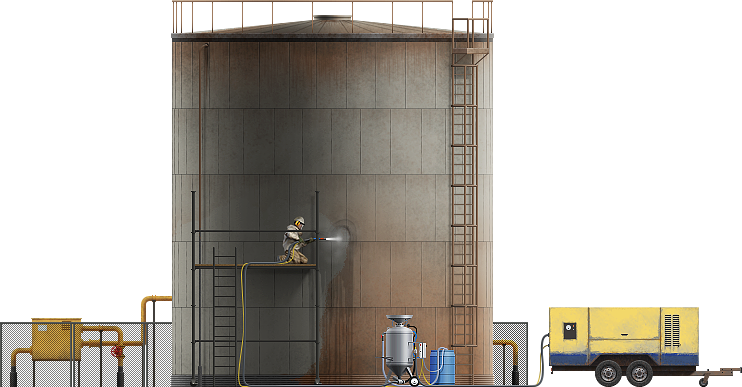 Quality and reliability at a reasonable price
Our own production base, equipped with advanced high-tech equipment, allows us to produce up to 30 production items simultaneously. We purchase a portion of components from suppliers that have undergone a stringent selection, and we produce the rest of components on our own.
The products are certified
1.5–3 times cheaper
than the European analogues
Operation scheme
The production complex for anti-corrosive protection of metal surfaces includes:
— compressor;
— pneumatic hydro-abrasive machine;
— set of abrasive sleeves;
— control equipment;
— sand blasting nozzle;
— water tank/tank for solution of surface condition fixer;
— personal protective equipment;
— abrasive of the required fraction and hardness.
Energy Blast operation manual
Download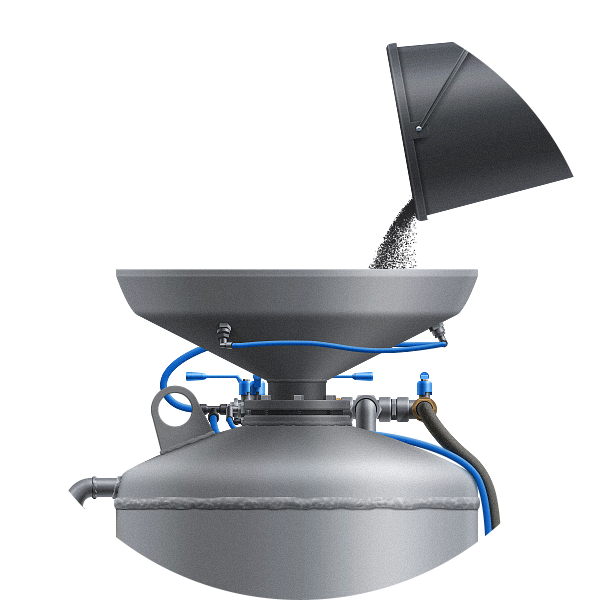 2 times less
abrasive
powder
1.
Connecting the machine and loading abrasive
The machine should be installed on a horizontal and solid surface, the connection should be performed according to the Operation Manual. The ratio of abrasive, solution and flux density can be easily adjusted both at start-up and during operation.
2.
Surface preparation
The use of wet abrasive eliminates the formation of dust and, thus, allows to compactly place the processing complex. This is a completely new production environment.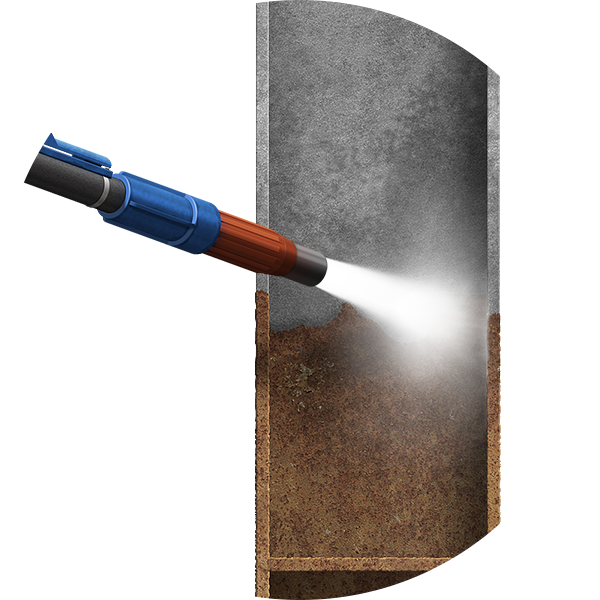 Processing quality
complies with
ISO 8501-1 2007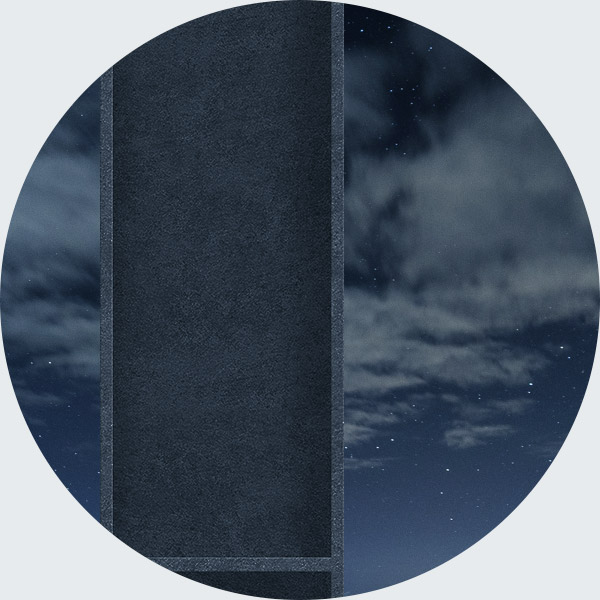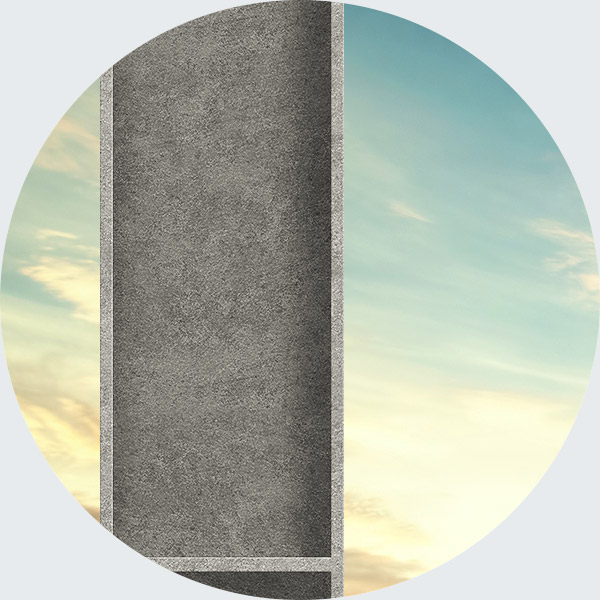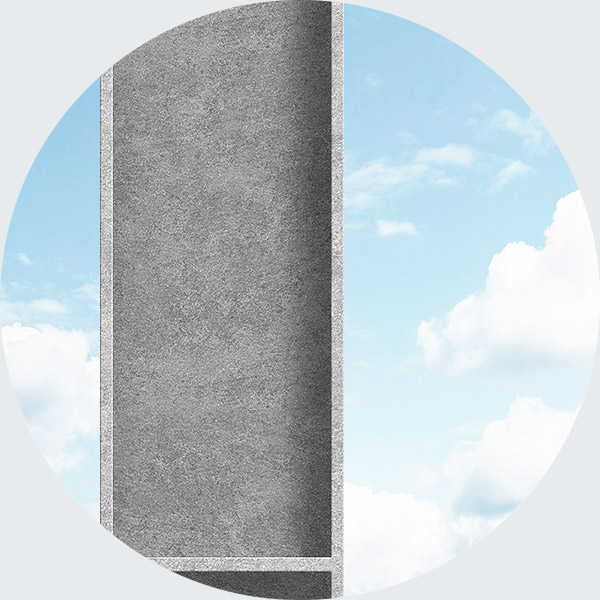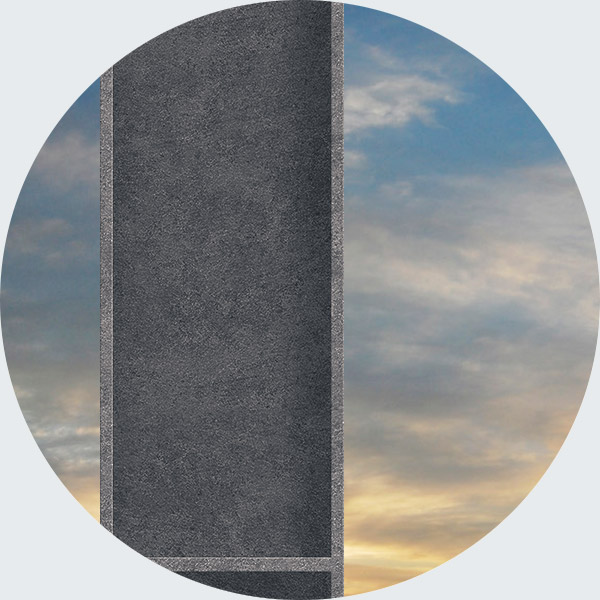 3.
Surface dedusting and painting
Immediately after dedusting with a water-air jet supplied through a slit nozzle/standard nozzle, or using a device such as "Kaercher", as soon as the moisture evaporated, the surface is ready for painting. In order to prevent metal corrosion, we fix the surface condition via AMIDAL inhibitor.
Order AMIDAL
List of equipment
The cost of the machine includes basic components only. Optionally, we will complete the order with necessary accessories.
Basic equipment
Contact us
to order
Energy Blast
Send us your request, question or call +7 (916) 799-84-99.
Flask
Hydro tests have been completed, ultrasonic testing of welded butt joints has been carried out according to STO 00220256-005-2005.
Each flask has a passport.
The flask is equipped with wheels and handles that facilitate movement of the apparatus at the work site.
For loading and unloading, use the mount at the top of the flask.
Characteristics
Flask walls thickness

6 mm steel
Operating pressure

1,2 (12) MPa (kg/sm²)
Calculated pressure

1,2 (12) MPa (kg/sm²)
Test pressure

1,5 (15) MPa (kg/sm²)
Working temperature

+5…+35°C
Minimal flask surface temperature

-20°C
Name of the working environment

pulp abrasive material
Corrosion compensation supplement

2 mm
Volume

0,3 and 0,08 m³
Estimated lifetime

20 years
Main regulatory documents
Control cabinet
It includes a system of pneumatic electric control and air distribution, switching sockets of the operational control path, a manometer measuring the air pressure in the system, a pneumatic diaphragm water pump, and an air filtration unit.
Control key
Electric Control Key — control system element, which allows you to quickly disable the abrasive in the tract. Cable length in the package 10 m. Can be equipped with an additional 20 m cable.
PT abrasive valve
Designed to feed abrasive into the abrasive path, quickly shut off the abrasive feed and adjust the amount of abrasive feed into the path.
It differs from the traditional sliding gate by speed of response to the control action "On / Off", determined by the speed of operation of the electric line. This method of controlling the flow of abrasive is considered the safest.
The working element used to shut off the abrasive feed is a boron carbide plunger pair - a bushing and a finger.
Drainage (air path)
Designed to control the flow of air into the apparatus and is equipped with emergency valves that allow you to quickly open and close the air supply. The presence of valves increases the safety of operation and eliminates the insurer. Additionally, it can be equipped with an input gearbox.
Water path pipeline
Designed to supply water (inhibitor solution) to the flask and (or) the air path. Provides control of the amount of the supplied solution and the amount of memory.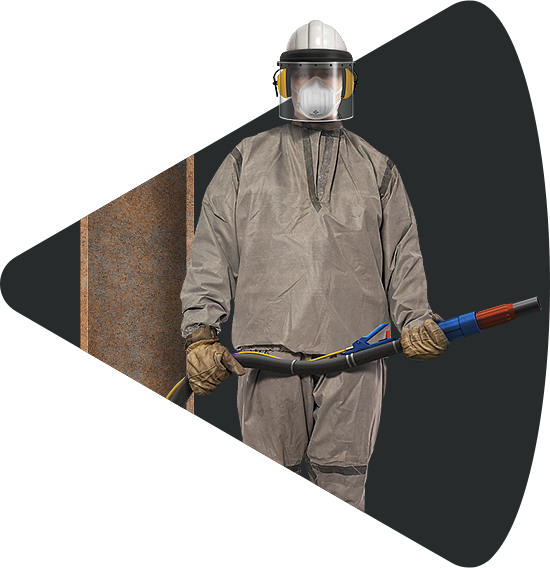 Protective mask4€
Respiratory mask1€
Helmet7€
Noise canceling
headphones7€
Waterproof suit70€
Gloves4€
New production environment quality
The absence of dust during operation allows cleaning without the use of an expensive sandblaster's suit with an air purification system. At the same time, damage to the sandblaster and other workers is minimized.
A regular set of clothes is 7 times cheaper than a traditional sandblaster costume
Contact us
to order
AMIDAL
Send us your request, question or call +7 (916) 799-84-99.
Contact us
to order
Energy Blast demonstration
We will demonstrate how our equipment works in your production environment.